We're a couple based in Surrey and share a passion for good quality pizza. I (David) have been a chef for over 20 years, and decided it was time work for myself and put my passion into something I really love. PIZZA!
The Pizza box started life as my wife's horsebox, she used it for many a years ferrying around her beloved horse. Unfortunately when she went to university Nicolas horses left her and the Horse box was left in the garden and used for storage area by her father.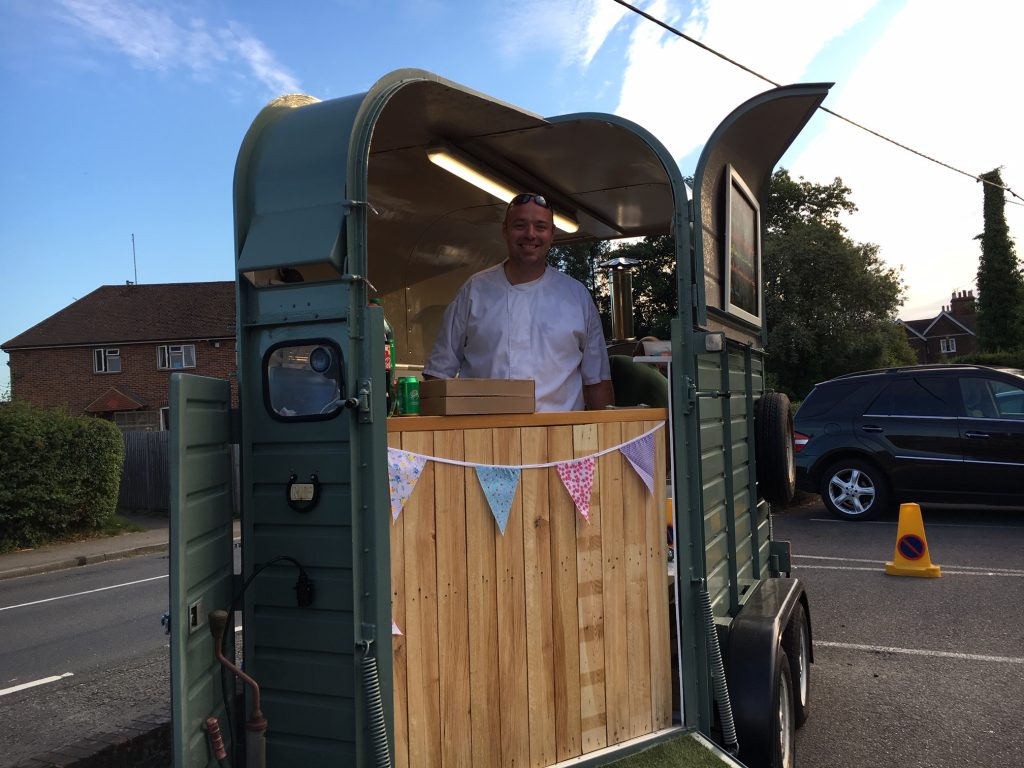 After many years of sitting in the parent's garden, I decided it needed to be up-cycled, and after a few discussions and a few G&Ts the conversation turned to pizza. This resulted in the idea of The Pizza Box, and then the project began.
Eight weeks later The Pizza Box was finished with a little help from Stephen, Sarah, Keith and Nicola. Having striped it back to its shell and rebuilding it from the ground up we installed a fantastic wood burning stove to help us create the perfect pizza.
My first event was my wife's birthday. It was a fantastic learning curve and it allowed me to learn about the new oven, such as the hot spots and cold spots and how my new dough reacted to this living breathing fire. So I stood out in the rain cooking our 1st pizza. Thankfully the in laws approved and we haven't looked back since.
What we are really proud of and what we think makes our Pizza stand out from the rest, is we use a Sour Dough base. Each batch of dough takes 4 days to prove to perfection meaning we have to keep a watchful eye on the whole process. Using a sour dough mix means it's not neutral flavour like a normal base, it adds flavour or as some would say character to the pizza it also forms and creates a different texture to normal dough when cooked.

We are happy to cater for any events, private parties, festivals and weddings. Offering our fresh tasty homemade pizza from our wood fired pizza oven which we try our best to top with Local fresh ingredients. Please contact us to discuss your ideas and the vision for your event.
We cover Dorking, Capel, Newdigate, Shere, Brockham, Betchworth, Surrey, West Sussex, Central Sussex.